Arizona Cup is proud to present its Title sponsor...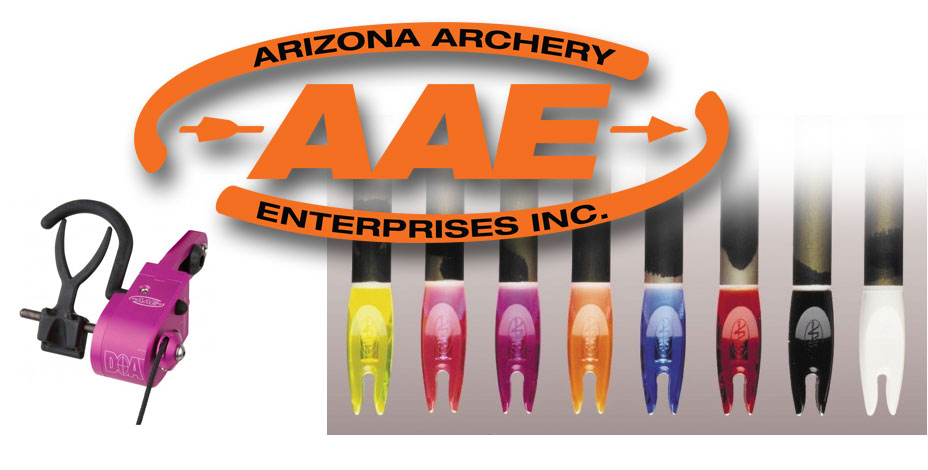 AAE continues to be the world's largest manufacturer of nocks and vanes.  Whether it is one of our own designs or custom designed arrow components for one of our archery partners, you can be assured that quality is the most important aspect of the product.
Look for our Elite Plastifletch vanes and Plastinocks and prepare to be amazed by the quality and adhesion of the new Plastifletch Max, Max Hunter, Pro Max, and WAV Vanes!  In addition, what archer wouldn't like to be able to quickly and accurately fletch his arrows?  Try using our Fastset Gel or Max Bond Glue along with the handy and easy to use Fletch III fletching jig.
In 2006, we changed our archery divisions name to AAE Cavalier USA with the purchase of Cavalier USA.  Dedication to quality has meant the continuation of all of your favorite Cavalier products beginning with the full line of recurve accessories, like the Elite Finger Tab, the Free Flyte family of Arrow Rests, the Champion II rest, our cushion Master Plunger, a variety of Clickers, and the ever popular and newly improved Pro String Server.  If you are looking for quality Compound accessories, look no further.
Our arrow rests include our top of the line Full Capture Fall-A-Way rests, the DOA and Pro Drop.  Our coiled spring rests like our Hawk Eye, Lil' FreakShow, and our Stinger.
We haven't forgotten the serious target archer and therefore we make the best on the market today with our FreakShow and Pro Blade rests.
Whatever your archery accessory needs, you can count on the quality and dependability that over 40 years of experience has brought to Arizona Archery Enterprises.